Synopsis
In 2006, the residents of Westlake Village voted down Measure Z (aka Lowe's), and the property was nearly immediately sold to Opus West for approximately $38 million (previous purchase price was in the $20-25m range).
Opus West has development agreements in place that give them the right to build up to 376,000 sq. ft. of office space on the 21.5 acre site, with a maximum height of 4 stories. To recoup the high purchase price, Opus needs to build to the maximum allowed for this property, as expected.
The community gave Opus feedback of wanting more mixed use. Furthermore, with office space creating the greatest noticeable impact on traffic in Westlake Village, several requested that Opus work to reduce that impact.
The Opus project goes before the City Council for vote on March 12th. The primary decision for the council is whether to vote for the "base" project of offices and two restaurants, or the proposed project that adds a health club, associated retail space, and a third restaurant. But, the council could also ask for revisions on design if they don't feel that it meets the standards of Westlake Village.
Conservative traffic estimates put the two projects at about a wash, but there's a reasonable possibility that the larger could actually make traffic better because it would provide services that many others on Russell Ranch Road could also use.

Full Article
First, let's understand a bit about traffic as it is a tough issue to understand. It's as much an art as it is a science, and to say it is complex is an understatement. There are multiple ways to measure traffic (car trips, service ratings, and more), but in the end, perception by humans is the key.
For example, most people perceive traffic by whether they "miss" the signal, or how often they have to stop. When it comes to traffic congestion, the vast majority don't tend to care as much as to how many cars are on the road, so long as traffic is flowing. But, for most, even if you spend less time to get some where, and are starting/stopping … that's perceived as worse than if you were to take longer to get there, but are moving along.
In Westlake Village, this translates into peak traffic times or rush hours. And, at the height of the peaks, the most impacted intersection is Via Colinas/Russell Ranch/Lindero which is almost at an "E" rating right now during the afternoon rush hour. 89% of designed capacity to be more precise.
And, despite that this area gets something like 250,000 car trips per week, most of the time this intersection flows well … again, except for peak office traffic hours (aka rush hour).
This intersection is already headed towards an "F" rating (which takes place when it goes above 100% of designed capacity) with what is currently slated in the area to come into use.
The good news is that there are a number of projects planned to make this intersection flow a whole lot better to handle not just the peak rush hour traffic, but also the overall flow on and off the freeway.
See these two articles about the overpass work to be done:
MTA Approved Funding for Westlake Village Lindero Project
(https://westlakerevelations.com/?q=node/56)
Overpass, budget related to it
(https://westlakerevelations.com/?q=node/65)
Newer developments in the city of Westlake Village are subject to the Transportation Demand Management Plan, which allows the City to mandate certain operational changes within a development. For example, it used to be that at 5pm, the backup on Agoura westbound to turn right onto Lindero was nearly 1/4 mile long. The city worked with State Farm to make operational changes — in this case, spreading the work schedule so that people finished work ranging from 4:30pm-5:15pm. This had a huge impact on the backup.
With the newer developments, they are not only subject to these types of operational changes at the city's discretion, but they may include a whole range of other solutions. For example, Opus may be required to pay for a variety of street improvements, from minor to major, if the city sees a traffic issue. This even includes a third dedicated turn lane to turn left from Russell Ranch to Lindero S (at a cost of $250k or more).
Bottom line on traffic: there are a ton of things that are going to happen to the Via Colinas/Russell Ranch/Lindero intersection including both more use, as well as a number of improvements. Westlake Village residents/workers should expect this intersection to go through a number of changes and variations over the next couple of years.
Russell Ranch Road
In the mid to late-1990's, after Costco, there was a proposal to build a school and park on Lot C in exchange for being able to build houses at the Russell Ranch park, and where Move.com currently is. The community voiced strong opposition to this, and as such, assorted property owners have moved forward building commercial uses on this site as the zoning/rights made that the most viable solution.
Today, the Russell Ranch project is primarily filled with office space including the two new Countrywide buildings (which are now filled), Move.com, multi-tenant buildings and others.
Opus Project on Russell Ranch
If you want to dive into a long, detailed document, the final EIR (Environmental Impact Report) is available on the Westlake Village web site at (http://www.wlv.org/whats_new/russellranch.asp)
And, if you are more visual, here are 3D renderings of the proposed development: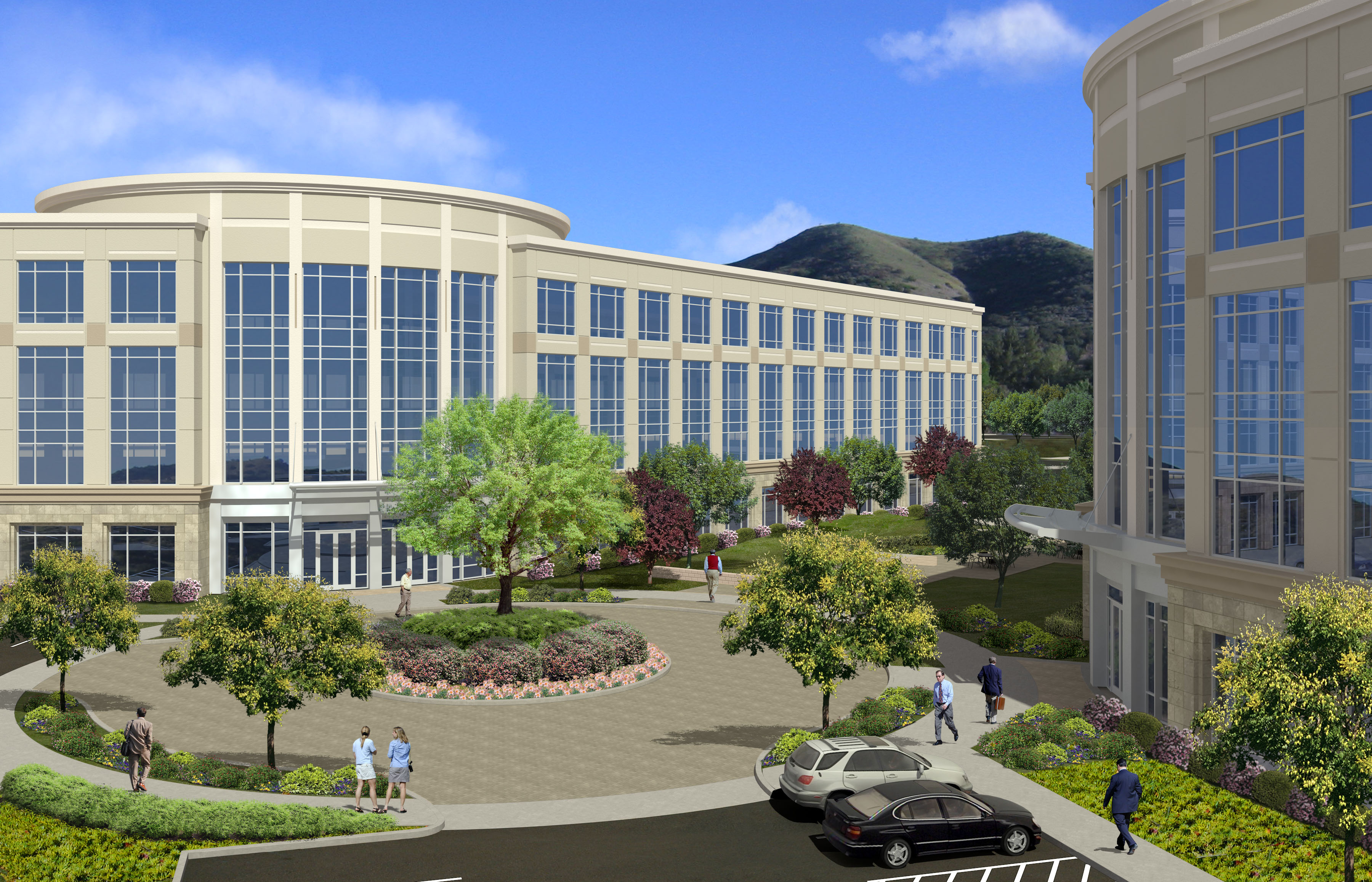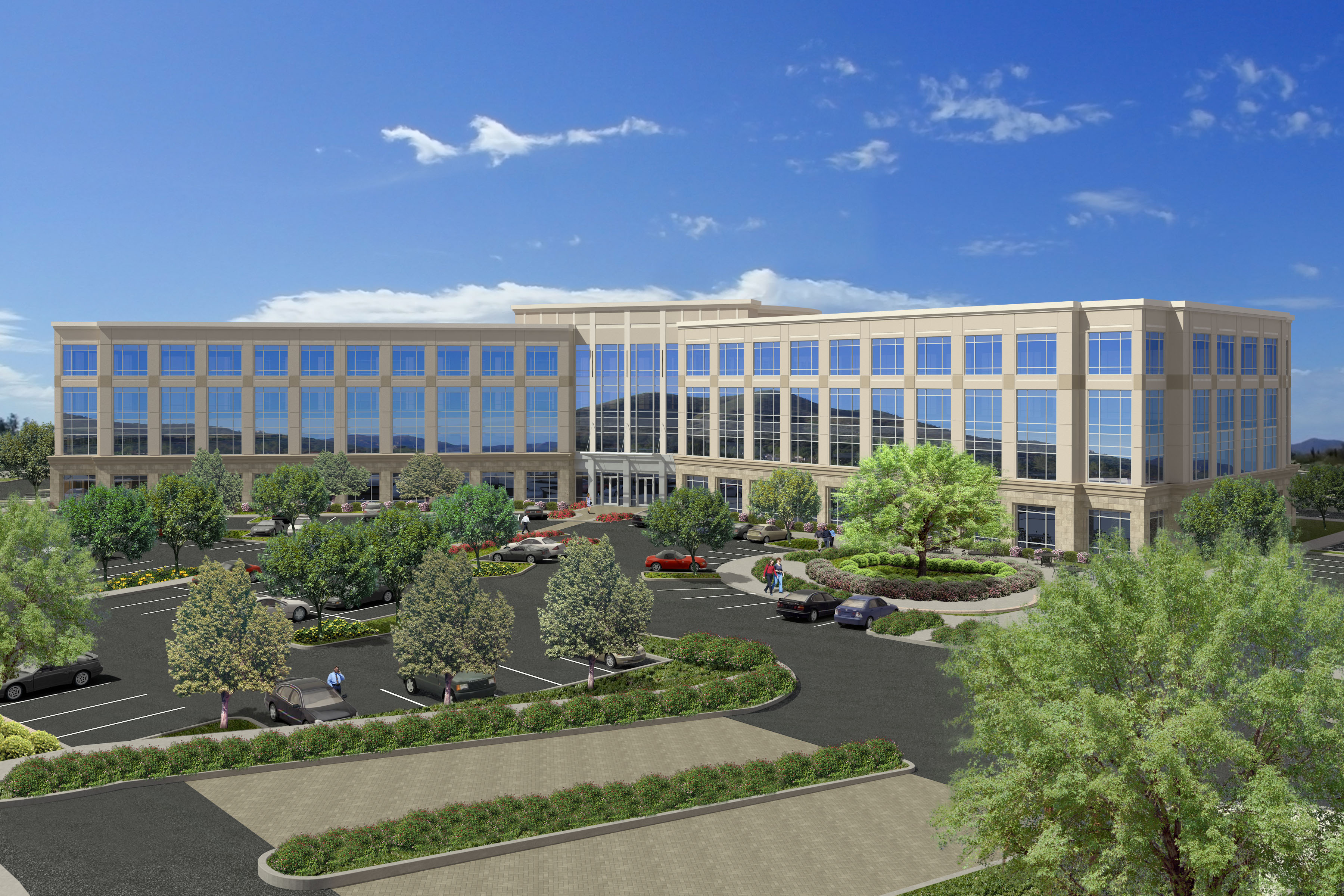 Although, it's difficult to get a feel for the building materials used in these two pictures.
Opus is entitled to build a 376,000 sq. foot property. And, if they were to do that, their plans have it as 361,000 sq. ft. of office space, along with 15,000 sq. ft. of restaurants (two restaurants). It appears that in order to have enough parking, they would have to build a parking structure as well (because of the limits to the four stories for the buildings). There does not appear to be an option to maximize the square footage without a parking structure.
In response to the community input, Opus is proposing that it also add a third restaurant (6000 sq. ft.), a health club (45,000 sf), and accessory retail that would be positioned with the health club (8000 sf). This project is 56,000 sq. ft. larger than the entitlements, and has the goal of two things: providing services that "Westlake Village residents want," and reduce traffic impacts. Furthermore, the health club would be positioned in front of the parking structure making it nearly invisible from the street.
There were a variety of things that residents asked for, including active parks, walking paths, more restaurants, retail, etc… And, while the property owner has no requirement to do any of this, it's usually best for a property owner to try and accommodate what people want where they can. The resulting expansion is a solution the property owner is willing to implement.
Traffic mitigation is a whole lot tougher. The theory is that if you give people destination points, they will stay within Russell Ranch Road (not just the new Opus building, but all the other office buildings on Russell Ranch as well). That will help spread the timing of people getting off work, but possibly eliminate a car trip completely (e.g., staying on the property instead of leaving at lunch to go to the gym).
There's no good way to measure what this could be. The EIR puts the proposed (aka larger) project at nearly the same traffic impact as the smaller, entitled project. The difference is literally less than about a car a minute. But, EIR's are by nature very conservative, and there's really not an accepted way to handle shared use between properties and traffic impact when it comes to this type of proposal.
Anecdotally, there are a variety of examples of developments that have had shared use. For example, someone working at the Countrywide building in the morning, goes to the health club, works out, and then grabs a quick lunch at noon, and then heads back to work … all without getting into their car, nor leaving Russell Ranch Road.
Similarly, within the project, shared use parking (for all the buildings on the property are projected at 12% … which may make for a reasonable shared use number for all of Russell Ranch properties … then again, it may not be). In short, there's no factual way to look at this, but logically, there's a reasonable argument that there should be a traffic benefit at some level.
In the end, the EIR and related documents are pretty clear that the City Council's decision on whether to do the original Opus office buildings, or the expanded solution, comes to a "land use" decision. In other words, how does the city want to see the property developed … as traffic is likely to be about the same, or better if the larger development is built.
Vote Next Week
As always, if you have an opinion, you should speak up and let the City Council know what your feelings are. Or, come to the meeting on March 12th, fill out a speaker card and make a public comment.