As of 5:30pm tonight, City of Westlake Village released the following updates:
Southbound Lindero Canyon Road: Lanes 2 & 3 are closed on southbound Lindero Canyon Road due to a mudslide between TO Blvd and Russell Ranch Rd. Lane 1 is open but moving slowly- different traffic patterns are encouraged.
Three Springs Park (entrance & park): Closed throughout the weekend


As of late this afternoon, LVMWD management confirms about the Las Virgenes Reservoir dam:
Sometime late tonight or early tomorrow, Las Virgenes Reservoir will likely get full enough that we will see a first-time release through the reservoir's spillway, which is designed specifically for this purpose. However, this is entirely depending on the intensity and duration of the rain. If the level reaches the spillway, the water would then flow through the northern edge of Three Springs Park, where an underground storm drain conveys it to Westlake Lake. See flow path.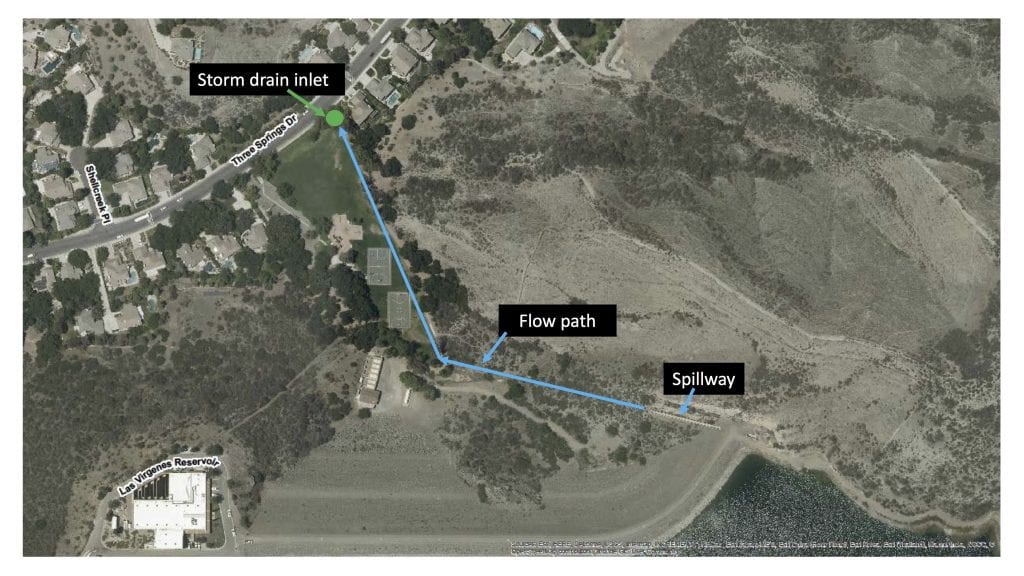 It is important that everyone stay clear of the park, and the spillway path – it is not safe to go near any of the drainage systems anywhere during this storm.
The spillway elevation is 1048′.  The spillway is not actually "opened" like a gate; instead the water just flows on its own over a weir once it reaches 1048′. You can follow the reservoir elevation here:
http://www.lvmwd.com/your-water/potable-water/facilities/las-virgenes-reservoir/las-virgenes-reservoir-water-level
As of Friday, February 17, 2017, 6pm, the level was at 1047.48' (about half a foot until it reaches the spillway). The level graph looks like this (gap due to construction during part of the day):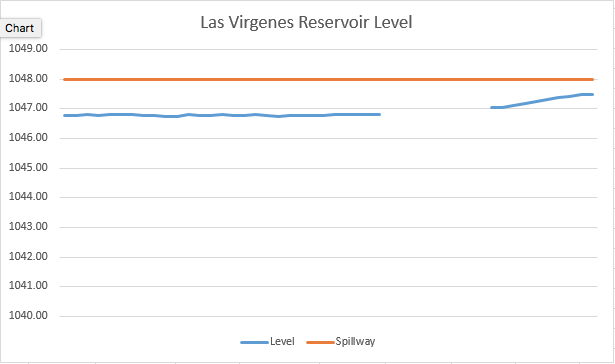 Earlier this week, LVMWD staff was "planning to activate the Westlake Filtration Plant, delivering reservoir water to customers, which would minimize, if not completely eliminate, the potential for a release" but then later said that "because of recent upgrades, however, the treatment plant is offline. The new facilities need to be approved by public health officials." According the Ventura County Star on Thursday night, "The district was able to release a small amount of water through an auxiliary line into the storm drain Thursday." But it was not enough to compensate for what's expected from the storm tonight.
LVMWD General Manager David W. Pedersen said, "We recognize that residents may be concerned with the potential release of water through the spillway, particularly in light of the on-going emergency at Lake Oroville. However, the facility is designed to function in this manner, and there is no risk to the dam or public."